Temporary Fencing? Ya, We've Got That Too!
Scott's Rent-A-Fence can supply temporary fence panels for a safe, convenient solution to help secure your project location from theft, vandalism and injury.
Our temporary fence panels come in different lengths and heights, are easily installed in different configurations and can be moved and reconfigured in minutes.
Since the panels are free-standing there is no need for drilling anchors that can damage finished surfaces.
Our fencing specialists will assess your needs, help with layout design and provide any necessary expertise to ensure your temporary fence panels are configured and installed when and where you need them.
Call Scott's Rent-A-Fence for a quote!

1-888-916-7500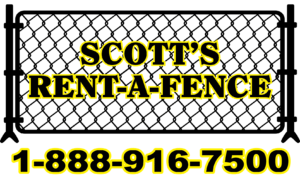 Contact Us

Call For a Quote!